Escape from the ordinary with our teak roll up string mat. It will bring the feel of a tranquil spa right into your home. Made of responsibly harvested solid teak wood, it is naturally resistant to mold and mildew. This high quality teak mat will last you a long time saving you money and the environment. Our roll-up teak floor mat is made of premium solid teak wood and comes in a natural finish. Perfect for any space outside your sauna, pool, spa, shower, bathroom, deck, boat or RV and will keep your feet warm while providing a clean slip resistant surface. It easily rolls up for quick storage and transportation. 
Features:
Natural finish
Water resistant
Rubber footing to prevent slippage
Easy to place or remove
Indoor and outdoor use
Smooth, comfortable and beautiful non-slip finish

Mat size: 19.6″ x 19.6″ x 0.5″

FREE SHIPPING WITHIN US 48 STATES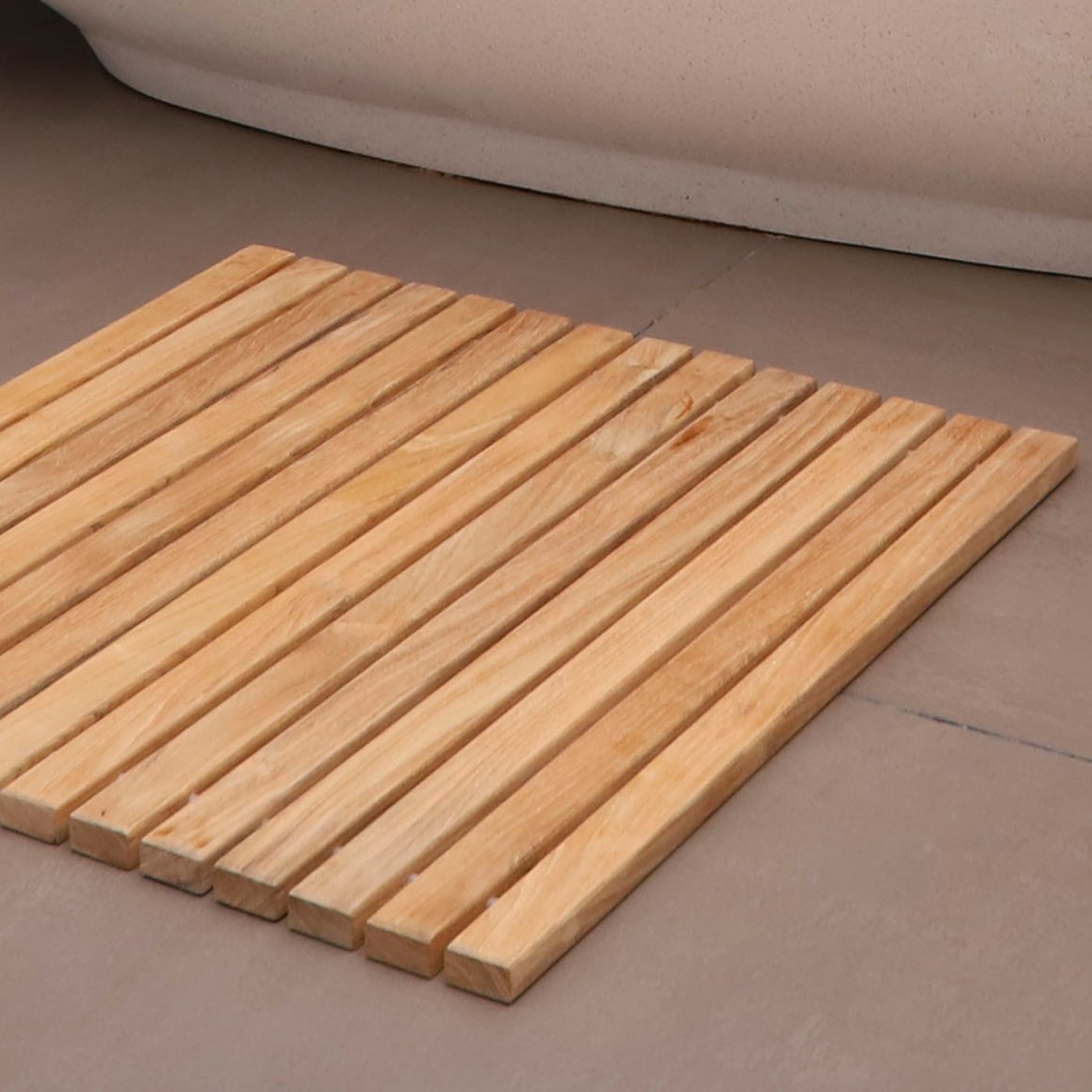 CONVENIENT AND EASY TO MAINTAIN
Teak requires very little maintenance apart from the occasional scrub. A mild solution of soapy water. This should be followed by a rinse with clean water. To remove grease spots, a light scrub with a de-greasing agent is recommended.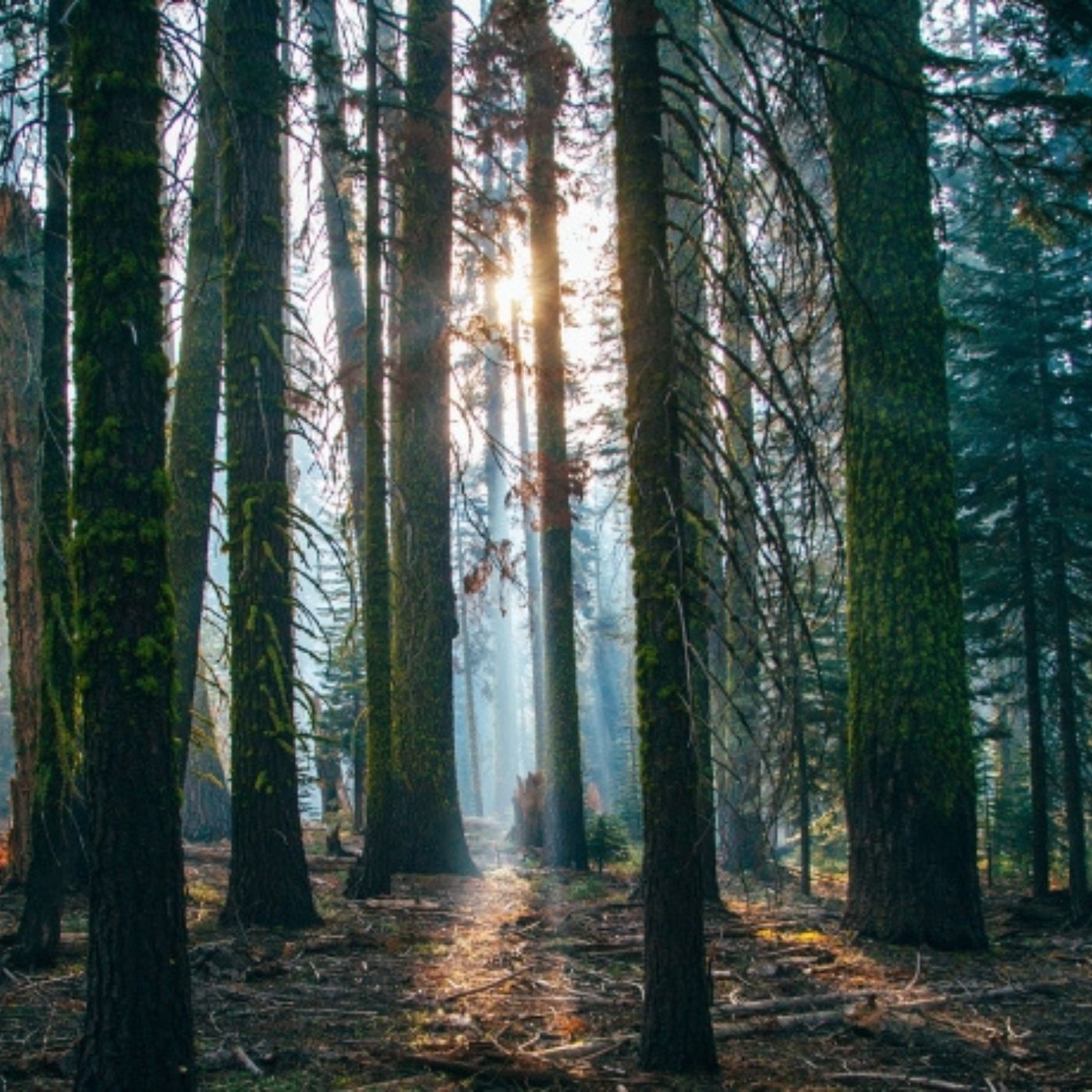 Sustainably Harvested
Our natural teak wood is sustainably sourced through our partner Indonesian Tree Farms. 100% harvested teak wood. Which provides it's water resistant properties.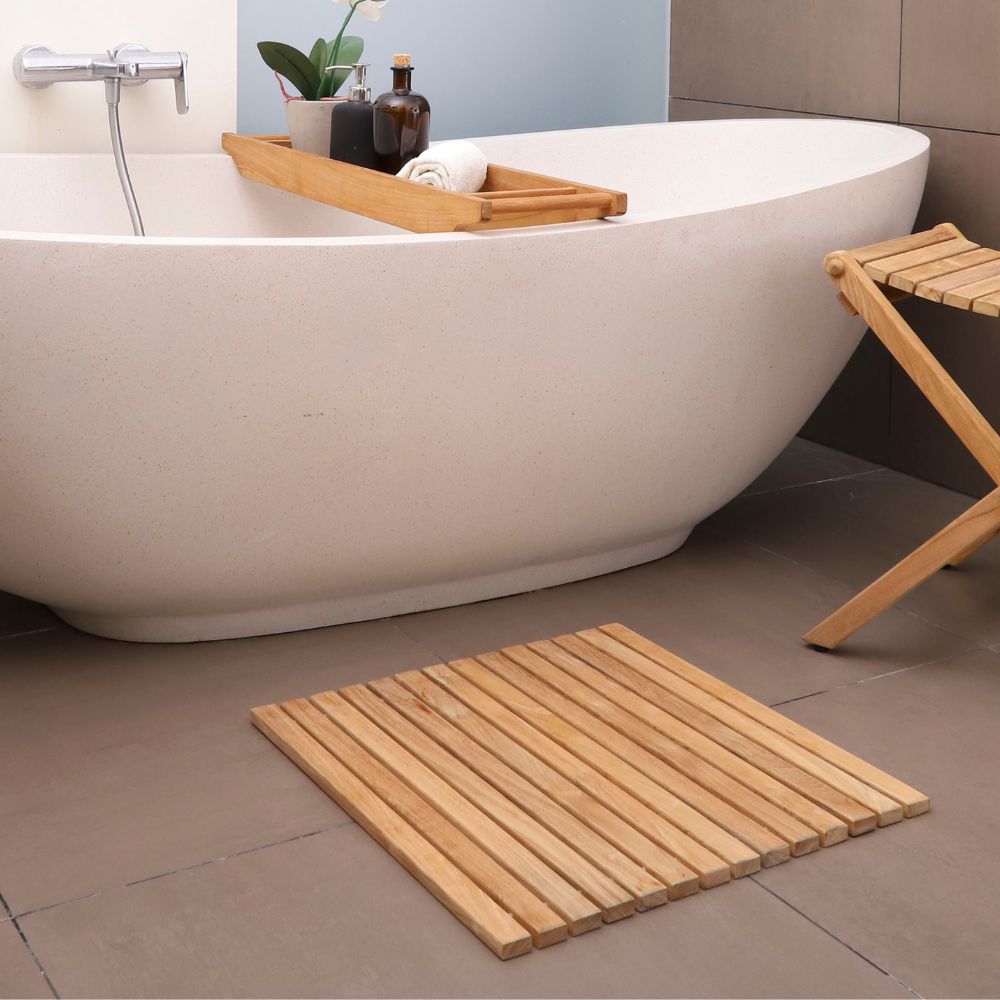 perfect for indoor & outdoor use
Naturally resistant to water for indoor & outdoor uses. Best used with patios, baths, showers, and spas.
I was concerned about ordering something like this online without being able to examine it first, but it's perfect. Good quality, well made. I oiled it because I'm using it outside and it looks even better.
Great Teak Flooring, I used it over the tile for my shower and got the large one, cut it to fit, its so much better than standing on the tile in the draining water.
This looks great I'm our remodeled shower. I like standing on it and drying off. It rolls up quite easily if I want it out of the way for cleaning or drying. Ours appears to be unstained which I wasn't expecting, but now I like it. It is not that red colour you often associate with teak.
See it in action
Go Ahead, Unravel It!